We all have heard the old saying that "abs start in the kitchen," but actually all fitness and weight loss start in the kitchen. Working out as hard as you can isn't beneficial if you aren't eating right. Eating foods that are high in protein and fiber and low in carbs when trying to lose weight will allow you to lose weight faster and keep itoff. Below are three recipes I found online to help you get a start.
#1 HOME FRIES WITH SAUSAGE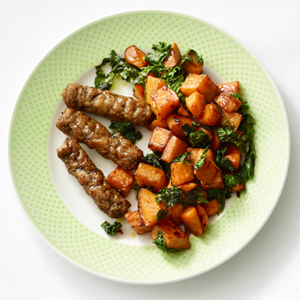 Calorie Estimate : 310 Calories
3 links Applegate Naturals chicken and sage breakfast sausage
1 cooked sweet potato, cubed
1 1/2 cup chopped kale
2 tsp olive oil
1/4 tsp crushed red pepper flakes
Prep: Heat chicken sausage. In a pan, sauté sweet potato and kale in olive oil until soft, sprinkling in red pepper flakes.
This is one of my favorites to start the day. It is pretty easy to cook and at the same time pretty tasty. The high amount of protein from the sausage will keep you full until your lunch break. Additionally, fun fact – some research reports that people who consume red pepper flakes eat fewer calories throughout the day.
#2 Ham Sliced Pear & Swiss Sandwich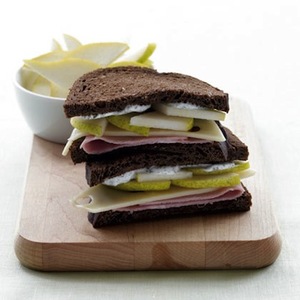 Calorie Estimate : 390 Calories
1 tablespoon plain Greek-style lowfat yogurt
1/4 teaspoon dried dill
2 slices pumpernickel bread
1 ounce lean sliced ham
1 small pear, thinly sliced
1 1- ounce slice Swiss cheese
Prep: Combine yogurt and dill in a small bowl, stirring until blended. Then spread yogurt mixture on bread slices. Top 1 bread slice with ham, half of pear slices, cheese, and remaining bread slice. Serve with remaining pear slices on the side.
This recipe is a great alternative take on the classic ham and cheese sandwich. Adding the pear with the skin on it to this recipe adds a ton of fiber which will help your digestive system and keep you feeling full longer.
#3 BBQ Turkey Burger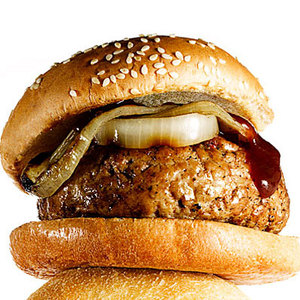 Calorie Estimate: 390
1 pound ground dark-meat turkey
1 garlic clove, minced
1/2 teaspoon paprika
1/4 teaspoon ground cumin
Pinch of kosher salt
1/4 teaspoon freshly ground black pepper
4 slices sweet onion, grilled
1/4 cup barbecue sauce
4 (1.6-oz) sesame seed buns, toasted
Prep: In medium bowl, gently mix together turkey, garlic, paprika, and cumin. Then form turkey into 4 (4-inch) patties; season with salt and pepper. Lastly, heat grill to medium-high; cook, turning once, until burgers are just cooked through (about 7 minutes per side). Serve with desired toppings and buns.
Once again protein is b. This recipe is high in protein which will help you stay out of the pantry later in the night. A great tip to cut the cooking time in half is to buy pre-made turkey burgers (make sure they are lean).
All of the recipes above are great examples to help you kickstart your weightloss regimen and help you keep the weight off. For more recipes, simply do a google search or check out some health magazines like Women's Health and Men's Health. Remember protein and fiber are key to staying full and sugary/processed food will add empty and unnecessary calories to your diet.